If you would like to schedule a rug pick-up or delivery, or have any questions Southern Heirloom Cleaning Co. is here to help!
Our Office
2835 S. Pine St.
Foley, AL 36535
Open Office Hours
On the Phone: Monday – Friday, 8:00 am – 4:00 pm
Drop Off and Pick Up Hours
Monday – Friday, 8:00 am – 3:00 pm
(Saturday, Sunday, After Hours Available By Appointment)
For answers to your questions, or to schedule a pick-up or delivery, please give us a call! You may also use the convenient contact form below.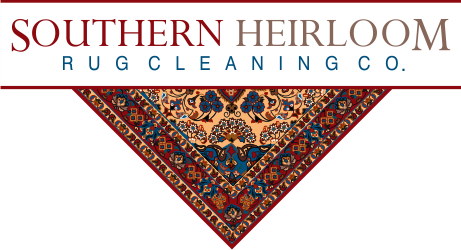 Q: Do you pick up and deliver? What's the charge?
If your rugs are rolled up & ready for us to take away, the fee is $45.00 round-trip. If you need us to roll them up for you, the fee is $75.00 round-trip, which includes a second man and the assumption that we will lay the rugs out for you on delivery. Additional charges may apply for heavy furniture moving, oversized rugs, or for pick-up and delivery more than 50 miles outside of Foley, AL.
Q: Can you clean my rugs in my house?
Oriental and contemporary area rugs require specialized rug cleaning equipment, cleaning solutions safe for specialty fibers and dyes, and lots and lots of water to get them clean and fresh. This can't be done in your home. If you're still not convinced, we invite you to come by and take a look at how we clean and repair rugs in our state-of-the-art rug care center in Foley, AL!
Q: Can you repair my oriental rug?
We see a lot of wear-and-tear rug damage every day. Worn and loose side cords, missing or pet chewed corners, small holes, worn patches, damaged fringes, water damage, and vacuum damage are all repaired by hand right here in our rug care center. When your rug comes in for cleaning, have our repair team look your rug over. It's far less expensive to repair a rug than to replace it!
Some repairs may be slightly visible after completion, and we can only ever guarantee that we will match the colors as closely as possible. A 100% color match is rare. Prices will vary depending on difficulty, and we must see your rug in person to provide a quote.