Our Rug Care Services
Southern Heirloom Rug Cleaning Company is a family owned and operated, full-service rug care center. No matter where in the world your rugs come from, we do it all!
From cleaning, to repairs done by hand, to custom-fit rug pads, to fiber protector, you can count on us to give your rugs the special attention they deserve.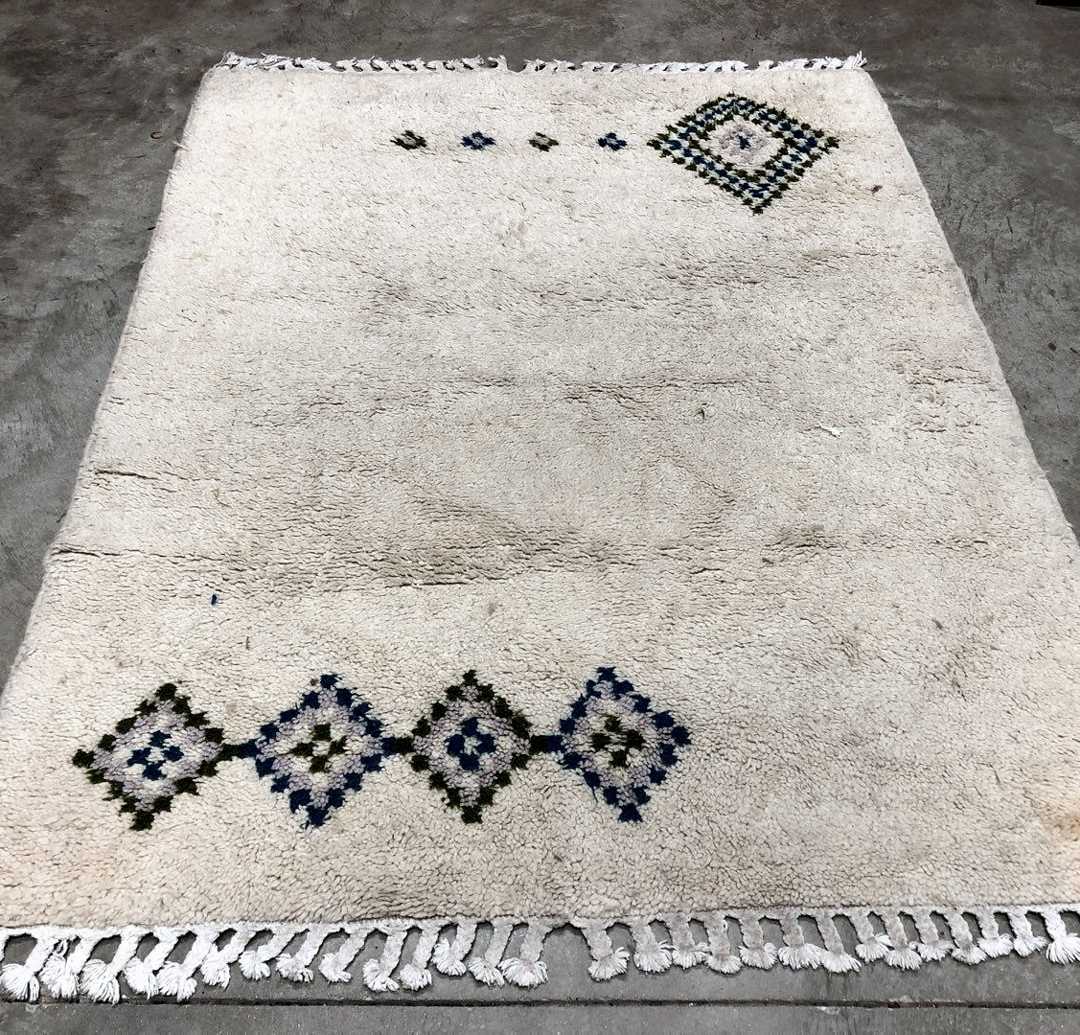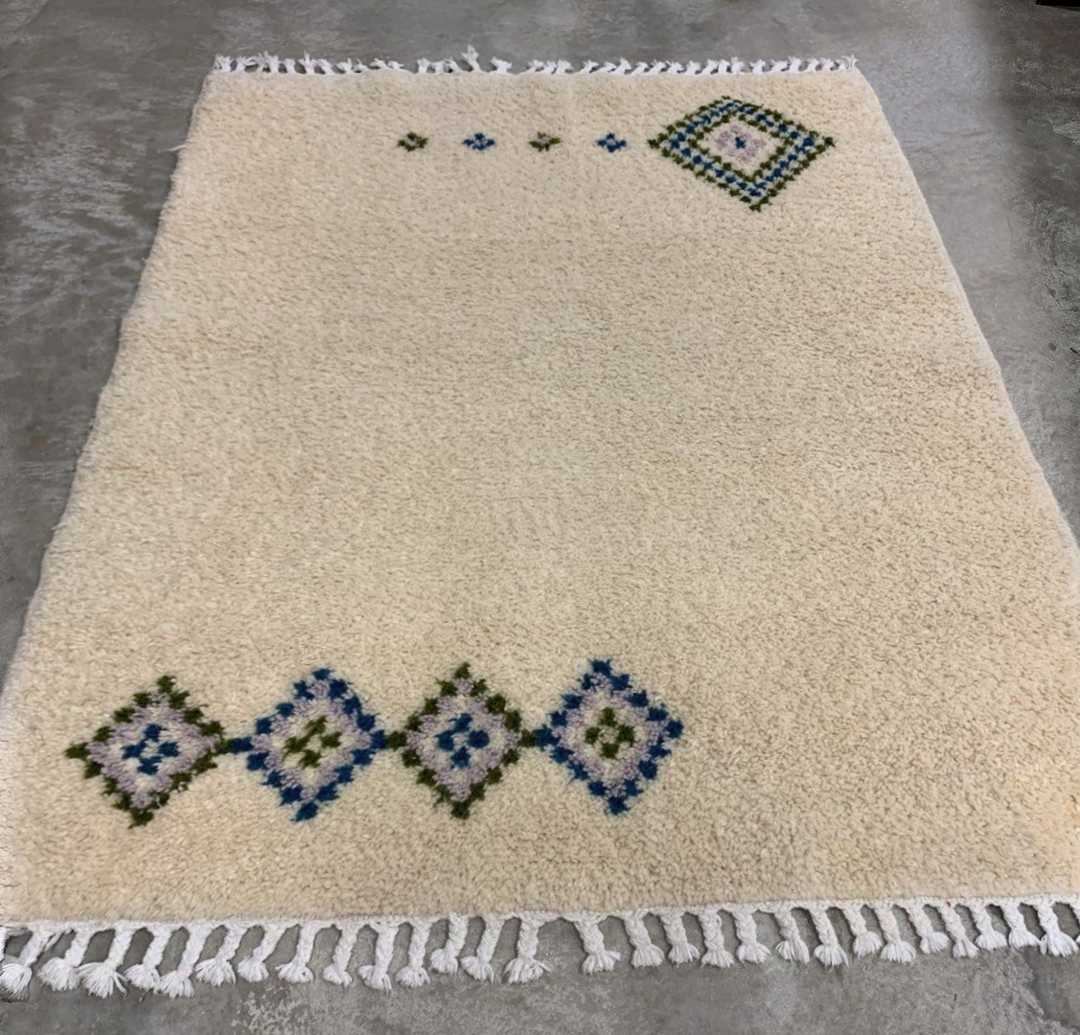 CONTACT US TODAY FOR YOUR FREE ESTIMATE
Pre-inspection
During pre-inspection, we are looking for the information we need to build a custom wash plan best suited to the individual needs of your rugs. Pre-existing conditions such as dry rot, pet stains, worn areas, and dye bleed will often cause us to alter our cleaning approach so that we are always using the safest methods.
DyE Stability testing
When we see visible pre-existing dye damage, or if we find evidence of dye damage due to pet urine or over-the-counter spotters, we will perform a dye stability test so that we know what to expect while washing your rugs. Even if we're expecting dye movement, we can still safely and effectively clean your rugs without further risk.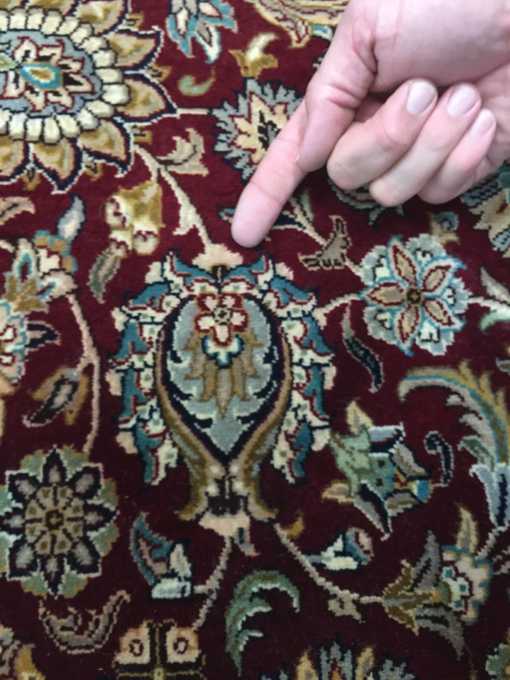 Dry Soil Removal
Before your rugs are washed, they are dusted to remove the gritty soils that become embedded in the foundation of your rugs over time. Just like our wash process, we will vary our dusting methods to meet the special conditions of each rug. From vacuuming to air dusting to our state-of-the-art tumble duster, we've got a dusting tool that will work for your rug!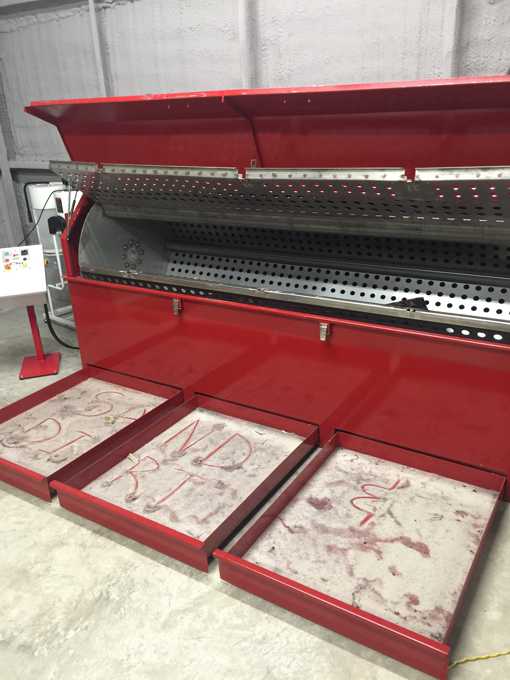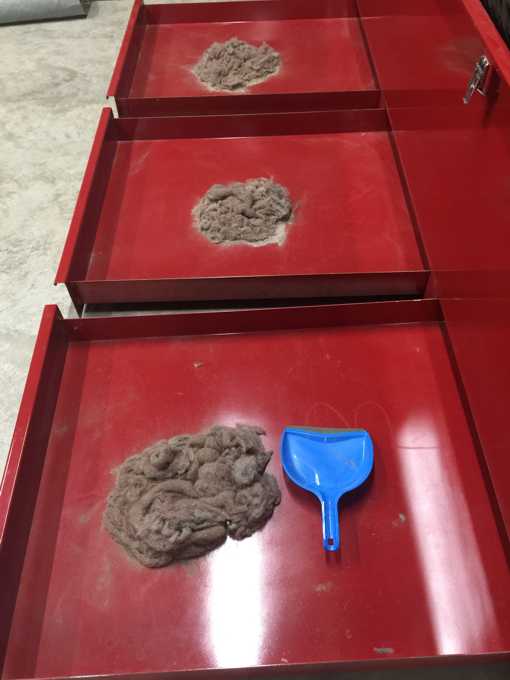 Rug Washing
At Southern Heirloom Rug Cleaning Company, we employ a 3-Dimensional Immersion Cleaning System that avoids the risk of cross contamination by washing the rugs from each home separately, so that pet urine or migrating dyes from other rugs will not touch yours. We use clean, fresh water and specially designed cleaning products that are safe to use on all kinds of fibers and dyes.
<!—1. HOW OFTEN SHOULD I CLEAN?—>
Rinsing & Water Removal
We're so happy to have one of the ONLY rinsing centrifuges in use in Southern Alabama. The high-speed spinning process expels water from your textiles in a manner that is successful for virtually every rug. Our drying space is temperature and humidity controlled, which speeds up the drying process and eliminates any mildew risk.
Pet Urine & Odor Control
No need for embarrassment when it comes to the pet stains and odor-causing bacteria trapped in your rugs! When you follow our pet decontamination protocols, we can guarantee pet odor removal. Tufted construction rugs are subject to exemption, as are rugs with extreme pet damage causing structural decay. These rugs should be replaced.
<!—7. PET URINE AND RUGS—>
Rug PAdding
Help extend the life of your rugs with a custom-fit rug pad! Southern Heirloom Rug Cleaning Company offers a number of different rug pads to help absorb wear, keep your rugs from sliding out from under foot, and filter away damaging soils. Most rug pads last between 3-5 years, so if it's been longer, it's time for a new one!
<!—13. DO I NEED A RUG PAD—>
Moth Deterrent Treatment
When you see wool moths in your rugs, call on us to contain and remove any infested rugs for cleaning, repair assessment, and moth deterrent treatment. Once your rugs have been removed from your home, you may wish to contact a pest control company for an inspection and eradication treatments if necessary.
<!—2. HOW TO IDENTIFY MOTH AND BUG DAMAGE ON YOUR RUGS?—>
<!—3. HOW CAN YOU PROTECT YOUR RUGS FROM MOTHS AND BUGS?—>
Wrapping Options
Rugs that are going into storage for any length of time should be professionally cleaned, thoroughly dried, treated with a moth deterrent, and wrapped in a breathable TyVec paper. This will reduce the risk of a moth infestation, or other nesting pest problem. Rugs going in to storage should never be left in plastic, nor should they be allowed to rest on the floor or along a wall.
If you would like us to wrap your rug for transport only, we are able to encase it in poly-tubing for a short-term solution.
Storage
Rugs left with us longer than 120 days from the date of completion of service are considered abandoned and become the property of Southern Heirloom Rug Cleaning Company to dispose of as necessary, unless storage arrangements have been made with us in advance.
All rugs placed into storage at Southern Heirloom Rug Cleaning Company will first need to be washed, treated with a moth deterrent, and properly wrapped in TyVec. Monthly storage fees will be assessed on an individual basis.
Rug Repairs
We see a lot of wear-and-tear rug damage every day. Worn and loose side cords, missing or pet chewed corners, small holes, and worn patches are all repaired by hand right here in our rug care center. When your rug comes in for cleaning, have our repair team look your rug over. It's far less expensive to repair a rug than to replace it!
Fringe Repair & Replacement
Because rug fringes lay flat, when they are walked across, they begin to fray. They are also exposed to frequent vacuum and pet damage. When your fringes wear away, the rug pile starts to slip out. Our repairers are happy to quote fringe reweaving or replacement for you! Having this done will protect the ends of your rug from unraveling, and will keep them looking beautiful!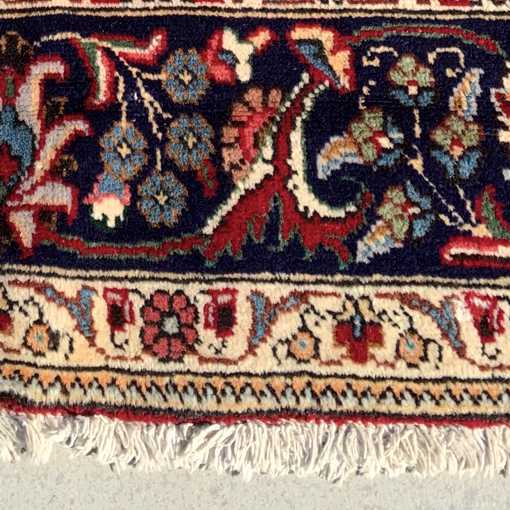 Color Correction & Dye Migration Removal
Dye damage caused by flooding, pet urine stains, or over-the-counter spotters can often be improved enough to become invisible to an unsuspecting person. Bleach spots and negative stains can often be re-dyed to blend in with the surrounding colors. Once your rug has been cleaned, we're happy to provide an estimate on the pre-existing color damage.
Results for this type of repair cannot be guaranteed as the process is more an "art" than a "science." Our goal is always improvement – not perfection.
Fiber Protection
Professionally applied fiber protector provides a couple of really great benefits! It causes a spill to bead up on the surface of the fibers for approximately 10-15 minutes, allowing enough time for blotting, and it provides far better soil removal during vacuuming. Fiber protection should be re-applied to your rugs after every professional cleaning, or after a year or two of use. Please ask us for a quote!
<!—14. WHAT IS PROTECTOR—>
Pick-up & Delivery
Southern Heirloom Rug Cleaning Company offers rug pick-up and delivery. If your rugs are rolled up & ready for us to take away, the fee is $45.00 round-trip. If you need us to roll them up for you, the fee is $75.00 round-trip, which includes a second man and the assumption that we will lay the rugs out for you on delivery. Additional charges may apply for heavy furniture moving, oversized rugs, or for pick-up and delivery more than 50 miles outside of Foley, AL.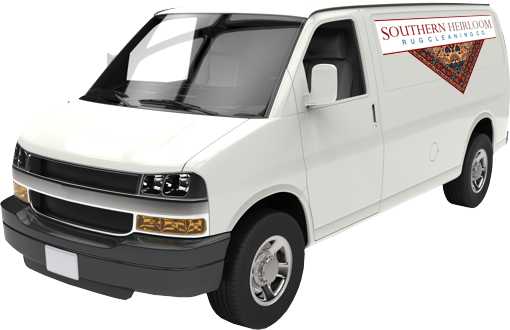 Specialty Fibers
We specialize in safely cleaning all fiber types!
Wool
Silk
Cotton
Linen
Sisal
Rayon
Viscose
Tencel
Bamboo Silk
Metallics
If you have any rug care questions or would like to schedule a pick-up or delivery please contact our team at Southern Heirloom Rug Cleaning Co.
Visit Our Shop
2835 S. Pine St.
Foley, AL 36535
Call Us
(844) 799-RUGS
(251) 968-2623